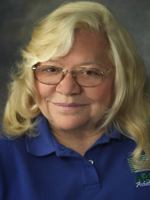 Roberta "Bobbi" Thompson, C.M.

Bobbi Thompson operates Airport Business Solutions' Nevada office, as well as serving as the Airport Manager of the Minden-Tahoe Airport, an airport under contract management by ABS' sister company, ABS Aviation. Bobbi is a Certified Member of AAAE and offers a diverse aviation background having been the Owner and President of a multi-base FBO chain (while serving as the Airport Manager at one of her FBO's airports), the Director of Airports for a system of five airports, Project Manager for a series of environmental audits for the FAA, and a world record-holding pilot.
From 1978 to 1989, Bobbi served as the President of Aviation Sales, Inc., a 55-employee fixed base operation with two locations in Dayton, Ohio. The primary facility was located on the international airport, while the second was situated on the City's general aviation reliever airport. During this period, Bobbi also served as Airport Manager of the City's reliever airport.
As the Director of Airports for the Los Angeles County-owned airports under a privatization contract, Bobbi's responsibilities included hiring, training, and supervising Airport Managers; rate-setting and enforcement; budget development; tenant relations; policy development and implementation; business development; lease development and negotiations; community interaction; FAA grant assurance compliance; construction management; and contract negotiations.
Subsequent to her tenure in Los Angeles, Bobbi was selected as the Project Manager responsible for conducting environmental audits on various airports across the United States under a multi-year contract with the FAA's Washington, DC Headquarters. In fact, through this project and other consulting assignments, Bobbi has completed project work on over 1,400 airports across the country.
Bobbi was the first female Board Member for the National Air Transportation Association, and a member of the American Association of Airport Executives' General Aviation Airports Committee.
Bobbi's diverse experience in virtually all aspects of general aviation is virtually unmatched in the aviation industry.